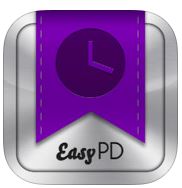 It is now mandatory for teachers to record any Professional Development they take part in for Teacher Registration purposes. I have struggled to find a way to do this that was not going to turn into a paper nightmare or an inconvenience. Recently I found Easy PD and just like the name of the app says it makes the whole process easy. Developed by Jarrod Robinson this app allows you to simply log the name of the activity, the location, date, amount of time spent doing the PD, description and even a photo. The amount of hours you have completed are tallied and conveniently displayed. I currently use this app to record all my PD and it certainly has simplified the process and I can thoroughly recommend it.
Below is a how to video from Jarrod Robinson.

Easy PD is available for the iPad, iPhone and Android.
Pin It